CH VALONA'S TRISTAN "TRISTAN" 2008-Current

Tristan is the result of the last litter bred by Ed and Pat Macdonald. Although never having been campaigned, this young dog showed his true qualities by making Ed a lot of Sweepstakes money!! Finishing his Championship as a puppy, Tristan no longer pursued a show career and resides at Valona as head honcho. As far as I am concerned, he is Canada's hidden secret sitting in Victoria BC. It turned out to be one of the best breedings we have done with our crossing into the Valona line. Tristan is the sire to our 2012 litter multi BIS Can Am Ch Chilcotin's Rose Royce, Multi BIS Can Am Ch Chilcotin's Harvest Moon, BISS Ch Chilcotin's Road Warrior, Chilcotin's Roxy Roller and Chilcotin's Red Neck Woman.

CH VALONA'S LONGSHOT 'SNEAKERS"

A littermate to the record holding Valona's Shaman (Buddy) , Sneakers was way before his time. Born as a recessive long hair in a litter of nine, we showed him as a young dog. He more than proved his quality by winning multiple puppy groups and many group placements. Sneakers was co owned with Ed Macdonald and Holly Robinson and led a long and wonderful life like his brothers and sisters. He passed away at the age of 12.
Pat and Ed Macdonald had shared a very close relationship with Rose and Roy. This led the way for Alana and I , not only to be mentored by them both, but to become part of their family. We would like to share some of the Valona dogs that have been so influential to our breeding program. Thank you Ed and Pat for your contribution in making Chilcotin what it is today.

CAN AM CH VALONA'S SHAMAN "BUDDY" 1991- 2004

Am Ch Fleming's Four Star Innovation x C/A Ch Chilcotin's Second Hand Rose

Where does one start with Buddy? Bred by Ed and Pat Macdonald of Valona Kennels, they leased our bitch Kiwi to help produce this magnificent litter. To date Buddy has held the breed record for the past SEVENTEEN years, for number of Best in Shows won by a Standard Smooth. He was Top Dachshund from 1995- 1997 in his variety as well as being awarded Number Three and Number Ten hound during his campaign years. Buddys zest for the show ring won him many admirers during his career. He retirement years consisted of winning every Veteran Sweepstakes he was entered at with his owner handler Ed. Buddy was a multiple Best puppy in show winner as well as multiple group wins in the USA during his career. His legacy left behind- with him as a stud dog are priceless, and we are so proud to have this amazing dog in many of our pedigrees. At age 13, Buddy left for the Rainbow Bridge, but will never be forgot.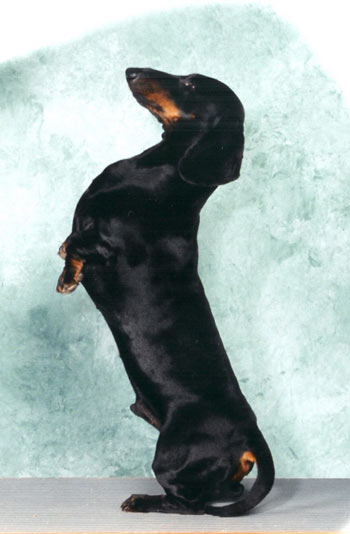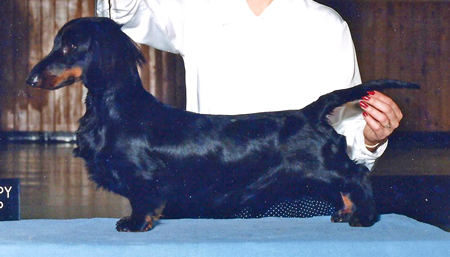 CAN AM CH VALONA'S PRAIRIE PRINCESS "GRETCHEN" 2000-2011

Ch Valona's Phantom Of The Opera x Ch Valona's Pocahontas (Buddy littermate)

Dear Sweet Gretchen…carrying on the tradition of her Grandmother Gazoo in being the best brood bitch ever. Her calling in life was to raise babies, although she only had two litters . She was a present from Valona Kennels to replace our beloved Kiwi whom we lost tragically. Gretchen obtained her American and Canadian Championship piloted by my sister Alana. She was a very cherished friend here at Chilcotin and died of natural causes. Our house has become a little quieter without her here.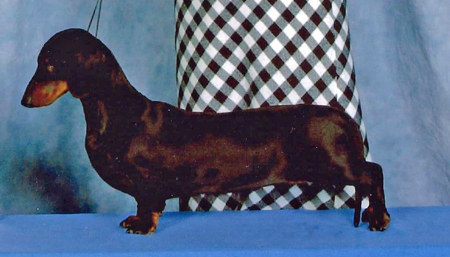 CAN AM CH VALONA'S EAGLE SPIRIT "HEMI" 1999 - 2009

C/A Ch Valona's Shaman x Ch Valona's Catch The Spirit

Hemi was owned by Ryan Krokosinski and Alana Smith. Who knew what magic Alana and Hemi would cast during their campaign year? As a puppy, Hemi and Shannon won multiple Best Puppy in Shows as well as Best in Specialty and Best Puppy in Specialty wins. (Thank you Breeder Judges, Don Fitzsimmons and Dee Hutchinson) His American title was done very fast, with all majors, as well as winning RWD at DCA under respected breeder judge Guy Jeavons. Hemi and Alana were the first Standard Smooth duo to achieve a hat trick of Best in Show wins at the Red Deer Kennel club where entries surpassed 450 dogs per day! No other Smooth has been on record doing this until Alana and Blossom repeated this performance in 2014! In our minds eye, as well as many influential breeders across the USA, Hemi was wrote up in many Dachshund articles as being close to perfection. His headpiece truly showcased that of the Egyptian Head dress that the standard clearly asks for. The Grand Lady of Smooths, Polly Fleming, wrote of Hemi's attributes to the breed and kudos to the Macdonalds for producing such a specimen. Hemi is a product of a double Mikhail (Flemings Four Star Innovation) son. Hemi was a Top Ten Hound contender for two years and also was in the USA Top Twenty for his two year campaign. He leaves behind a tremendous legacy with his Grandchildren doing him very proud with their show careers.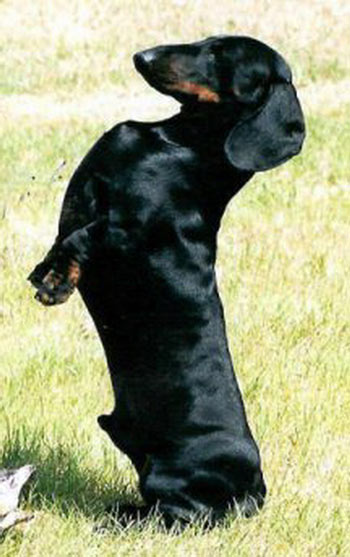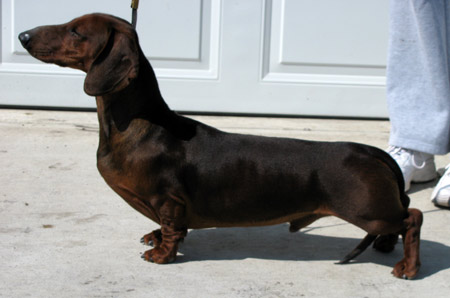 WEB DESIGN BY NIOME