CAN AM CH CHILCOTIN'S BLACK TIE AFFAIR 'SPENCER' 2002 - current
C/A Ch Valona's Eagle Spirit
x Ch Chilcotin's Gesundheit
Spencer is 12 yrs old now and living his retirement with Kristi and Scott Spurrell. He was shown as a puppy by his then owner, Tracy Tuff and was a consistent winner not only in the group ribbons, but with multiple Best Puppy In Shows and Sweepstakes wins under Breeder Judges. He was shown to his American title by his breeders and all majors were obtained during a specialty weekend from the 12-18 class. Spencer completed his title in seven show days including group placements.
His first litter bred by Alice Carter of Ironwill SS showed tremendous promise in the show ring obtaining several nice wins on multiple puppies. We are anxiously looking forward to having one last litter out of Spencer with frozen semen.


CAN AM CH CHILCOTIN'S INDIAN SUMMER 'ISSIE' 2006 - current

Ch Valona's Highway Man x Ch Chilcotin's Gesundheit

Issie was from a litter of four reds, and the only one we chose to show. Finishing her Championship while still a puppy, she obtained several puppy grp awards and multiple group placements. At 15 months old , we took her stateside where she received three majors and fourteen points in seven days. We returned and she finished with a Best of Variety from the 12-18 class for another major. Issie was bred once and what a litter that proved to be! Five reds born, three went to show homes, two went to repeat homes, two multiple BIS winners from this litter and the three littermates were #1, #2, #3 in Canada's Top Ranking for Standard Smooths, along with #4 Hound for 2014. Issie is now retired and my only token Standard Smooth currently living with me.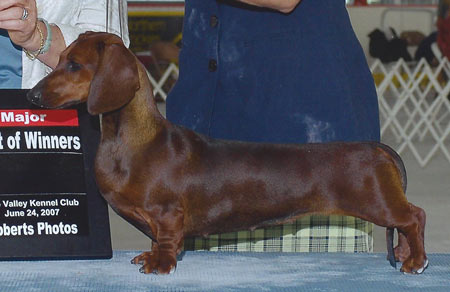 CAN AM CH CHILCOTIN'S IN THE GHETTO , RN, CGN 'HARLEM' 2010 - 2017

A/C Ch Valona's Eagle Spirit x Valona's Under The Mistletoe

Harlem was the only boy born in our litter of five and is the apple of my sisters eye! During his puppy career, Harlem and Alana won Ten puppy groups, three all breed Best Puppy in Shows, and three large all breed Best in Sweepstakes wins. He was ranked as Canada's #9 Hound puppy for the year 2010. Finishing off his puppy career in 2011, we were honored to have Breeder Judge, Don Fitzsimmons award him another Best Puppy in Show. Having already won multiple group firsts in Canada we took Harlem stateside to try our luck there. He finished from the 12-18 class in quick succession. In 2012 he added on his CGN title and his Rally Novice with thanks to his handler Linda Hill. Harlem spends his days being a Professional Junior Handling dog and waiting for his turn to take the show ring by storm.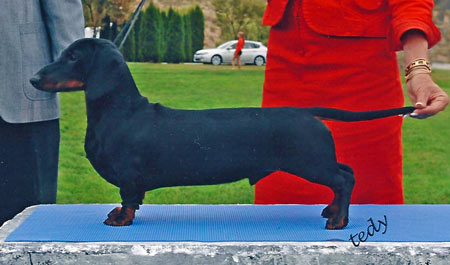 CAN AM CH CHILCOTIN'S ROSE ROYCE, CGN 'BLOSSOM' 2012 - Current
Ch Valona's Tristan
x C/A Ch Chilcotin's Indian Summer
Finally we had a dog that was worthy of the name that I had saved for all these years which honors ROSE and ROY Singleton.
Thus the moniker "Rose Royce" was born.
Our newest and current star here at Chilcotin Kennels. Blossom was one of five outstanding reds produced with this breeding. Our final choice in deciding which female to keep was with a flip of a coin. She started her puppy career with the new class Baby Puppy. What fun we had! Winner of three Baby Puppy in Shows, led the way to bigger and better things by the time she was old enough to compete. As a puppy, Blossom was the Top Smooth in Canada with 11 Puppy Groups, Two Best Puppy in Shows, 10 Group firsts and 22 other placements. In 2014, we continued to show her and she did not turn two until half way through that year. She was awarded 19 Group Firsts, 33 other placements, SIX ALL BREED BEST IN SHOWS (tying her with the record of our Chilcotin's Willow The Wisp) and was named CANADA'S NUMBER FOUR HOUND. Blossom received her American title while still a puppy as well as winning Best Bred By Exhibitor in Show. She won multiple Best of Varieties and group placements , beating some of the USA top ranked dogs. In May 2014, we travelled to DCA in Sacramento where we were honored to receive not one but TWO of the only bitch Award of Merits during the National weekend. Blossom will be out and about in 2015 while we wait for her maternal instincts to kick in.
CAN AM CH CHILCOTIN'S HARVEST MOON ' PUMPKIN' 2012 - Current

Ch Valona's Tristan x C/A Chilcotin's Indian Summer

Pumpkin is co owned with ourselves and Dan and Molly Ehmann of Summerland BC. Primarily a Juniors dog for daughters Scarlett and Johanna, we brought Pumpkin back here to get her Canadian Championship. With no breed competition we figured it might take awhile . Within a month, Pumpkin was ranked as #1 Standard Smooth and had won two ALL BREED BEST IN SHOWS , one from the classes to finish her Championship. Pumpkin also was the winner of the biggest smooth classes during the DCA weekend winning Bred By Exhibitor back to back at the specialties. We then took her stateside where she was undefeated for the Variety from the Bred By Class in one circuit to win four majors and numerous group placements. Pumpkin was home before she knew it and left the rest of the year up to her sister Blossom. Pumpkin was awarded with #2 Standard Smooth in Canada for 2014.

CH CHILCOTIN'S ROAD WARRIOR 'BRU" 2012- 2015

Ch Valona's Tristan x C/A Chilcotin's Indian Summer

Bru is owned by Dennie and Debbie O'Hearn in Ontario. Sold as a pet to a couple that had been waiting for several years for a red male, I was very reluctant to send Bru as we wanted to keep him. However a promise is a promise and off Bru went to his new home. I was so happy to hear that Debbie had taken some interest in perhaps showing Bru and asked how she would go about it. Knowing the tough area she would be competing in, I told her to just go and have fun. This Novice team never looked back. A few handling classes under their belt led the way for Bru and Debbie to obtain their Canadian Championship from the classes all with group placements. They had to do it the hard way with no competition to be found. Not to be outdone by his sisters, Bru finished off the year proudly as Canada's # 3 Standard Smooth. We at Chilcotin are just thrilled that our owners were so keen on showing their dogs and we were rewarded with littermates being the Top THREE in Canada.

The other two littermates, Chilcotin's Red Neck Woman is living with Spencer (Black Tie Affair) enjoying her family life.

Chilcotin's Roxy Roller is also with repeat owners the Tourignys out of Saskatchewan. Both of these lovely bitches could have gone on to do great things in the show ring but that is not where our priorities are. Having our dogs in such wonderful homes is our first prerogative. Thank you to Ed Macdonald of Valona Standard Smooths for pushing so hard to make this breeding happen.

FLASH August/2015, Bru wins BEST IN SPECIALTY SHOW in Southern Ontario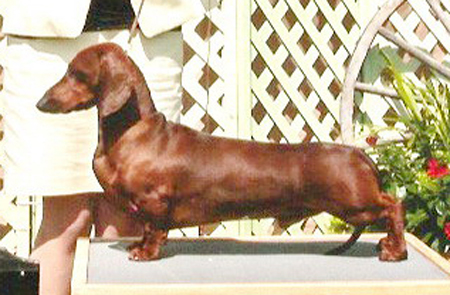 WEB DESIGN BY NIOME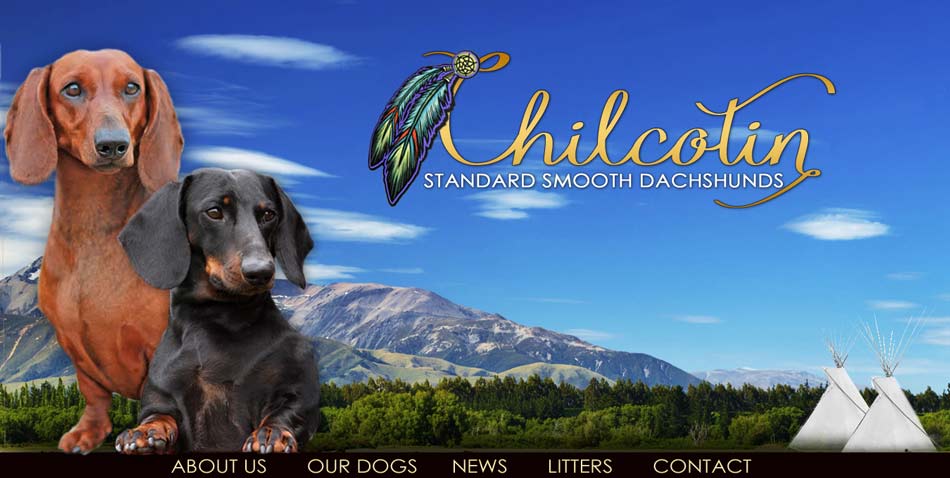 CLICK BELOW TO TAKE A WALK THROUGH ....