CH CHILCOTIN'S BLACK WIDOW 'TOULA' 2002 - 2014

C/A Ch Valona's Eagle Spirit x Ch Chilcotin's Gesundheit

Toula was a full litter sister to Spencer from a litter that produced 8 black and tans. Finished as a young puppy she also received multiple puppy wins and group placements. Unfortunately no matter how many times we tried, we never were able to get Toula to produce a litter for us. She was content with being my sister's family pet. We lost her last year due to old age and miss her every day.


CAN AM CH CHILCOTIN'S WILLOW THE WISP "EMILY" 1986 - 1996

C/A Ch Valona's Keeper Of The Keys x Ch Chilcotin's Wings Of The Raven

After having shown for Rose and Roy for several years, Emily was given to me as a gift by them. She was a multi group winner and Best Puppy in Show winner before a year of age. She obtained her American Championship undefeated by 15 mths of age with several group placements.

In 1991 Emily made Standard Smooth history by being the first Smooth bitch to win six all breed BIS, two BISS shows , Number One Dachshund and Number Ten Hound. Her record held strong for twenty three years. Currently we have tied the SS BIS record with Emily's Great Great Great Granddaughter, "Blossom"

Emily produced one litter of five. Two which were shown: Am Can Ch Chilcotin's Plum Coulee and Ch Chilcotin's Willow of Jericho.

Sadly, Rose passed away before she got to see Emily win her first Best in Show. This was a first for Chilcotin Kennels and paved the way for many more.

CAN AM CH CHILCOTIN'S SACAJAWEA "SHONI" 1988 - 1998

Shoni was from a repeat breeding of Emily. This time six reds were born. A multi group winner and Top Smooth in 1990, she never equalled Emily's success in the ring. Regardless of this, she was the standard we kept in mind when grading all future litters. All of her USA majors were won at Specialty shows.

Shoni was bred once and produced a litter of four, of which we kept all of them. This was the first litter after Rose's death and we themed the litter after Rose's name.

Sadly, Shoni was killed in a car accident along with her daughter Jessie, brother Jodie and owner Roy Singleton in 2005.

CAN AM CH CHILCOTIN'S ROSES ARE RED 'FREEBIE" 1992- 2005

Am Ch Galadach's My Boy Giorgio x A/C Ch Chilcotin's Sacajawea

Freebie was from the Fab Four litter out of Shoni. In 1993, she was shown only 8 weekends and was #1 Smooth. She won her first Best in Show, owner handled by my sister Alana Smith. She finished her American title by winning BEST IN SPECIALTY from the Open Bitch Smooth class at the Cascade Dachshund Specialty.

Freebie's highlight was being a Mom. Her legacy carries on to this day from the quality that she produced for us. We lost Freebie and her littermate Cooper a month apart from old age.
CAN AM CH CHILCOTIN'S SECOND HAND ROSE "KIWI' 1992 - 1998
Am Ch Galadach's My Boy Giorgio x A/C Ch Chilcotin's Sacajawea
Part of the Fab Four, Kiwi finished her American title in short order, handled by my sister Alana. She was leased by Ed and Pat Macdonald of Valona Kennels and bred to AM ChFlemings Four Star Innovation. This litter produced 8 black and tans. One recessive coat came from this and we finished
Ch Valona's Longshot
very quickly with multiple puppy wins and group placements. Also from this litter is the record holder for the breed,
Can Am Ch Valona's Shaman (Buddy)
owned by Ed and Pat.
In 1998, the unthinkable happened when Kiwi's life was cut short while raising her second litter. She was attacked by coyotes in our yard while we were outside with her and her litter. I still mourn this dog's death as she was such an ambassador for breed temperament and maternal instincts. We thank Ed and Pat for then sending us Kiwi's Grand Daughter,
C/A Ch Valona's Prairie Princess
to fill the void left by Kiwi's untimely death.
CH CHILCOTIN'S WINE AND ROSES 'JESSIE' 1992- 1998

Am Ch Galadach's My Boy Giorgio x A//C Ch Chilcotin's Sacajawea

Number three of the Fab Four. Jessie finished her Canadian title by the ripe age of six months. She was a multiple puppy winner and group placer along the way. Jessie never reached her full potential with a campaign as she was waiting in the wings for the others to be shown first. Sadly, she was one of the three killed in the car accident with Roy. We count our blessings every day for having had Roy and his wonderful dogs in our life.

CH CHILCOTIN'S KEEPER OF THE ROSE 'COOPER' 1992 - 2005

Am Ch Galadach's My Boy Giorgio x A/C Ch Chilcotin's Sacajawea

The only boy from the Fab Four. Cooper was never campaigned due to the fact that it was Ladies First with us showing his sisters. He obtained his Canadian championship quickly, again with multiple group placements. Owned by my sister, Alana, Cooper was the sire of many beautiful Chilcotin dogs and shared his life at home with sister Freebie.

CAN AM CH CHILCOTIN'S PLUM COULEE "STRUDEL" 1993 - 2005

Ch Chilcotin's Keeper Of The Rose x A/C Ch Chilcotin's Willow The Wisp

Again, another multiple Best Puppy in Show winner as well as multiple group firsts, Strudel was shown for only four months as a puppy. In this time she became Canada's top Smooth in 1994. She finished her American Championship from the 12-18 class with multiple best of varieties from the classes as well as several group placements. Emily definitely produced a carbon copy of herself . Due to being committed to other clients, we never campaigned her. Strudel was bred several times but only produced one singleton- Ch Chilcotin's Hawk On The Ridge. She passed away due to old age.

CH CHILCOTIN'S GESUNDHEIT "GAZOO" 1998- 2012

Rodeo Low Commotion x A/C Ch Chilcotin's Roses Are Red

Gazoo was owned by my sister Alana, and was probably our best producer here at Chilcotin. She left us with a tremendously strong line of bitches to carry on with. She was the last of the Old Chilcotin lines coming directly from Rose and Roy's breeding stock. Shown only as a puppy, we concentrated more with her being in the whelping box and we were not disappointed. Gazoo led a very long and happy life travelling to shows and being the token "RV Dog" welcoming anyone who stopped by with her charisma and charm. We bid farewell to her after 14 ½ terrific years with us.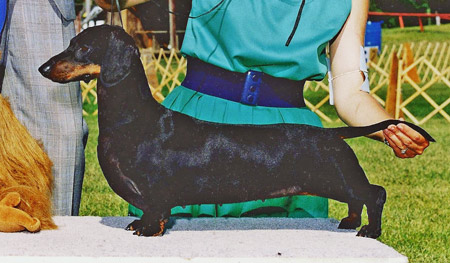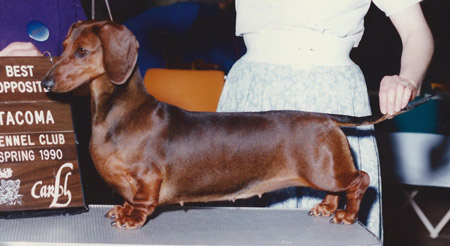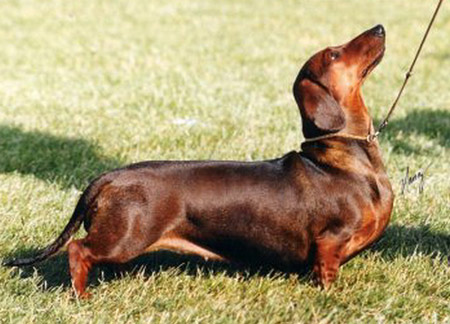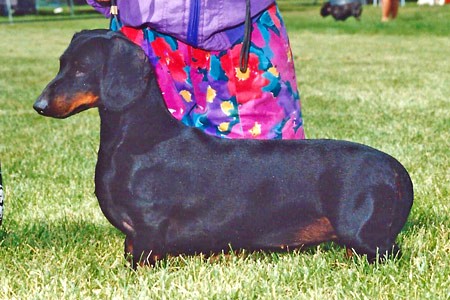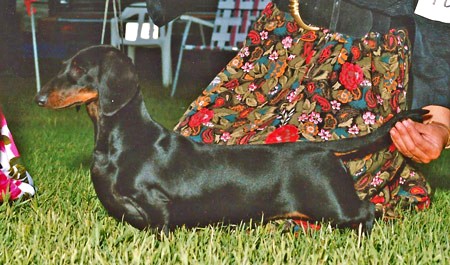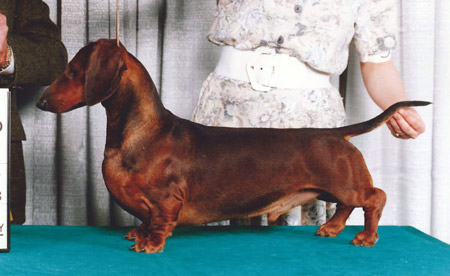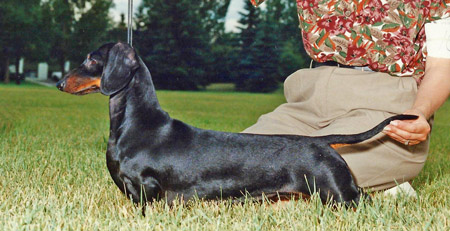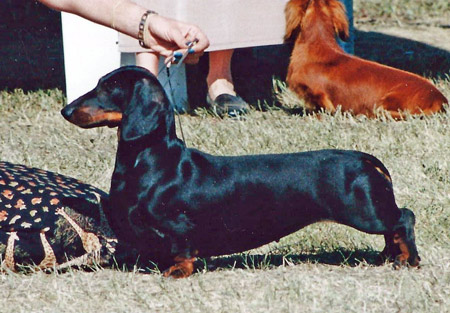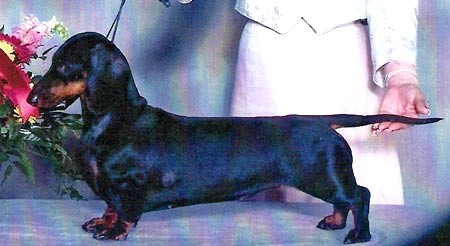 WEB DESIGN BY NIOME